2017-10-18
Deeplearning4j, Machine Learning, Java
In this post, I introduce an implementation of a proposed CNN design for Arabic handwritten characters recognition.
2017-09-12
Opencv, Machine Learning, Dlib
In this post, I introduce an app for realtime driver drowsiness detection (Sleep Detection) using facial landmarks.
2017-07-02
Machine Learning, Java
In this post, I will explain how to generate a model from ARFF dataset file and how to classify a new instance with this model using Weka API in Java.
2017-04-29
Machine Learning, Java
Using TensorFlow and Inception-v3 model, I built this small demo in Java to recognize objects in images and classify it into 1000 classes like Lion, Frog, Flowers, ....etc.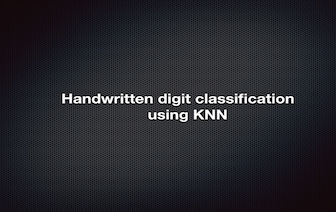 2017-04-11
Machine Learning
One of the most important aims of machine learning is to classify data into classes. For example, classifying an email to be spam or ham, a tumor is a malignant or benign, or classifying handwritten digits into one of the 10 classes.